What and Where is Sunset Celebration?
Sunset Celebration is a nightly arts festival at Mallory Square Dock in Key West, Florida. The participants of this Key West attraction consist of arts and crafts exhibitors, street performers, food carts, psychics and of course the thousands of tourists from around the world who visit this Key West art show. Each night around two hours before sunset masses of people, both locals and tourists alike, flock to the water's edge to experience a multicultural happening and to watch the sun sink into the Gulf of Mexico.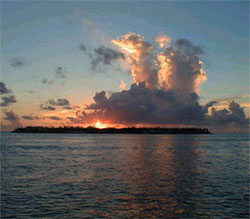 zoom
Photo by Sabrina Liguori.
Events Calendar
Attention Sunset Applicants:
Jury Meetings for new applicants will be on the first and third Monday of every month at Bayview Park in Key West near the children's playground at 10:00AM.
---
Sunset Celebration is proud to present the annual Conch Republic Days Street fair sponsored by the Key West Cultural Preservation Society. This year the fair will be on Saturday, April 21, 2018 from 10:00 A.M. until 6:00 P.M. Its location will be on Duval Street between Eaton St. and Green St.
Click Here for More Information
Visiting Key West and want to sell your art at Sunset Celebration? We are proud to announce we now have Guest Artist and Trial Artist programs available!
Set Up Time:
Performers-4:00
Artist-4:15
Calculate Key West
Sunset Time for a Specific
Date
Current Temperature in Key West